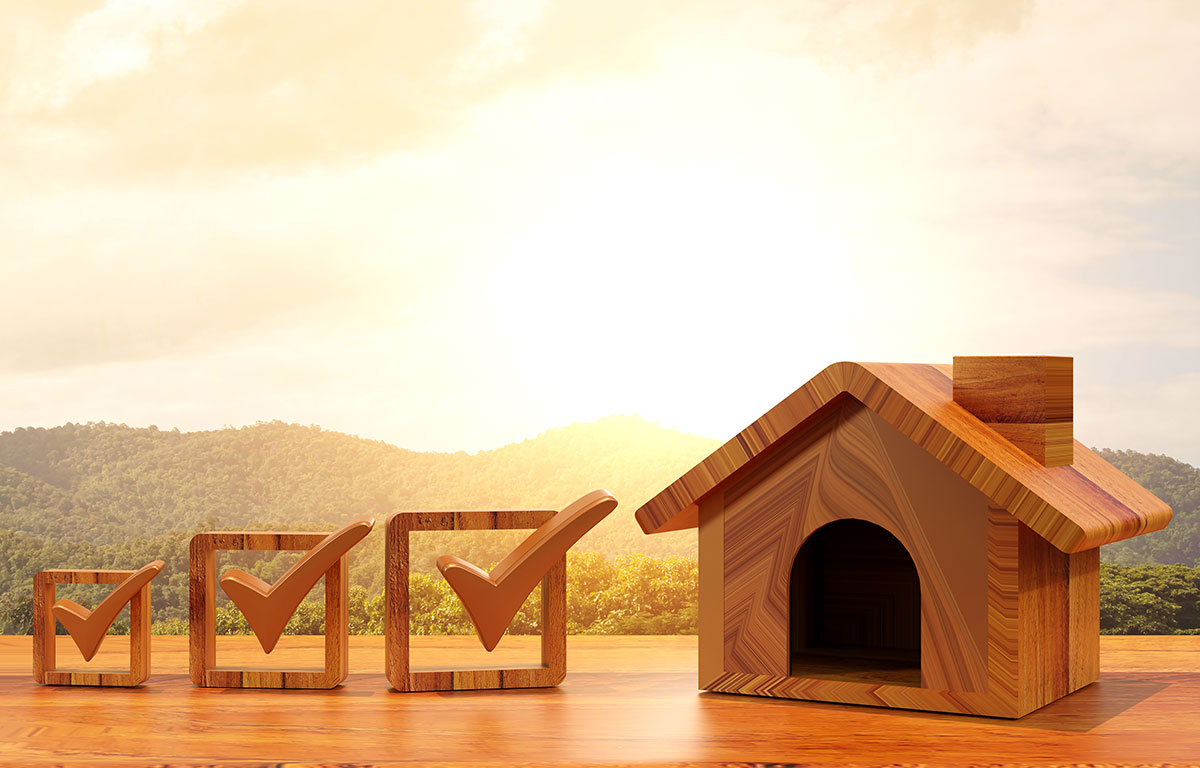 Custom Home-Building Checklist
Tags:
before you build
,
building a home
---
Building a custom home is one of the most exciting parts of home ownership, but with so many decisions to be made, the home-building process can seem overwhelming. As an experienced home builder in Wichita, KS, the Sharp Homes team created this custom home-building checklist to help you prepare for the decisions you'll need to make at each step of the process.
1. Secure Financing
The first step in building a custom home is reviewing your budget to see what monthly payments you can afford. As with any other residential real estate purchase, your total monthly mortgage payment will likely include homeowner's insurance, property taxes and mortgage insurance (PMI) if applicable.
Then, you can move on to financing your dream home. Most builders will want a letter or certification stating you're pre-qualified or pre-approved for a mortgage before they start building your home. There are several types of mortgage loans you may qualify for, each with different terms and rates: conventional loans, FHA loans, USDA loans, and VA loans.
Costs to Include in Your Budget
If you plan to build your home on a piece of land, keep in mind that the land purchase price is usually in addition to the cost of your home.
When building in a new home community, the price of the lot may or may not be included in the price of the home, so be sure to confirm whether it is or not.
It's also good to be aware that making changes to the home design or features after construction begins could cause "overages", or costs that are added to the final purchase price.
When you get a price on a custom home build, it includes allowances for finishes. Any costs beyond those allowances will be added to the price of the home, so be sure to keep that in mind as you make your selections.
Make sure your budget includes landscaping, sod, sprinklers, and a fence, if you want them. Some builders will include sod, sprinklers and fence installation in their contracts, so check with your builder to see if these costs will be added to the cost of your home or if you'll be responsible for them after closing.
And finally, don't forget to budget for window coverings. When you buy an existing home, the seller usually leaves the blinds or curtains behind. With a newly-built home, however, you'll be responsible for adding window treatments after closing.
2. Choose a Site
Choosing the lot or land to build on could be your second, third or even fourth step in the home building process. No matter when you make the decision, there are a few things to keep in mind:
First, consider the size of the lot or land on which you're going to build. Make sure it's big enough to accommodate your home and have enough space for the size of yard you're looking for. If you don't have pets or small children at home, you may want a smaller lot for less maintenance. Or, choose a bigger lot if you plan to add a large patio, swimming pool, outdoor structures, or just want lots of green space and room for gardening.
Price is another factor to consider for your home site. When building in a new home development, there are generally lots available in a range of prices so you can find one that fits your budget. For example, cul-de-sac lots and lake lots or those that back up to a water feature are usually more expensive.
The elevation of a lot affects its price, too. View-out lots typically have a higher price than daylight lots. Construction costs will also vary depending on whether your basement has exterior walls halfway below the ground with windows above the ground (view-out) or the entire exterior walls and windows below the ground (daylight).
Another factor to consider when choosing a home site is the direction your lot faces, or the direction your home will be situated on a piece of land. A west-facing home will have shade in the backyard during the evenings, while a north-south facing home may have lots of cold wind in the winter.
If you're building in a development, research the amenities and homeowner's association (HOA) requirements. Often builders will build in multiple new home communities, so you can choose one with the features and location you want. You might also want to choose a lot in a specific area of the neighborhood, such as near the community swimming pool.
When building your home on a plot of land, think about things like access to utilities, the slope of the land, and any trees, bodies of water or other natural elements on the building site. It's also a good idea to check to see if you'll need to get special zoning or if there are any environmental or nature conservation issues that must be honored.
3. Choose a Floor Plan
Selecting your floor plan is one of the most exciting parts of building a home. This is the step of the design process where you choose the layout of your home. Visiting model homes and homes that are on the market can help you decide on features you do and don't want in your custom home design.
Home builders will usually have a selection of floor plans you can choose from, and they usually have design teams you can work with to customize a plan. At Sharp Homes, we can create a completely customized floor plan to your specifications or you can use one of our pre-drawn plans.
A few home design features to consider:
Garage size
Number of bedrooms
Number of bathrooms
Basement or slab foundation
How many stories
Finished or unfinished basement
Space for hobbies or working from home
Storage needs
4. Research & Hire A Home Builder
Sometimes choosing a builder for your new home goes hand-in-hand with selecting a floor plan. If you find a model home you like, you can simply contact the builder to discuss building a similar home.
If you're looking for a completely custom home, you'll want to get an idea of the type and size of home you'd like to build. Then, you can create a list of builders with experience in similar construction. We've created a helpful guide to help you choose a custom home builder.
Schedule a time to meet the builder's agent and tour their model homes if possible. Checking reviews from existing homeowners who have built their homes with the prospective builder is also a good idea. Be prepared to ask questions and take notes on what each builder offers and the quality of their work.
Learn as much as you can about the builder's warranty, too. Find out what is covered as well as how long the warranty lasts after you close on your home. This will give you peace of mind that any issues you find after move-in day will be corrected.
Develop a Timeline With Your Builder
Once you've chosen a builder, you'll work with them to develop a timeline that covers everything from permitting to the final walkthrough. Most builders manage multiple construction projects at once, so they should be able to give you an estimated closing date when you sign the contract.
If you have time restrictions, like selling your current home, communicate those with your builder as soon as possible. Together, you can plan out construction or come up with a backup plan.
While every builder's process is different, you can read about the custom home building process with Sharp Homes to get an idea of how long your construction timeline might be.
Keep in mind, building a home can take longer than expected because of things like adverse weather and supply chain issues. It would be wise to leave some leeway for your construction timeframe.
5. Construction Walkthroughs
Depending on your builder, you may have walkthroughs at different points during construction. Some builders may do a walkthrough as framing is being completed to make sure there are no adjustments that need to be made that would affect the interior walls. You could be meeting with your builder or with the project manager for your new home build.
You should be prepared to do an electrical walkthrough after framing is completed. This will be your chance to see first-hand where light fixtures, light switches and electrical outlets will be placed. If you plan to install any smart devices, surround sound equipment, outdoor outlets for Christmas lights, or other specialized electrical components, this is the time to decide on their placement.
Your builder may also want you to come in for a trim walkthrough with the trim carpenter. This is a great opportunity to discuss any built-in shelving to be installed. If you have any special needs for storage in the closets or pantry, this is a good time to discuss them.
Keep in mind, some changes you make at these various walkthroughs could impact the final price of your home, so be sure to discuss pricing with your builder.
6. Select Finishes
For many home buyers, choosing finishes is the fun part of building a home. Typically, you'll select everything from paint colors to plumbing fixtures. Your builder will direct you where to go and you'll usually make an appointment to meet with a designer. You'll be shown options that fit your allowances and then you can choose to upgrade if you wish; keep in mind that the upgraded costs will be added to the final purchase price of your home.
To prepare for making your selections, it can be helpful to use sites like Pinterest to get design ideas. Be prepared to choose:
Flooring
Interior paint
Exterior paint
Light fixtures
Ceiling fans
Tile and backsplash
Plumbing fixtures
Countertops
Cabinet stain or paint
You'll also need to choose your built-in appliances, which usually includes the refrigerator, dishwasher and stove. In some cases, you'll choose a built-in microwave, cooktop and oven.
7. Final Walkthrough
The final walkthrough is your opportunity to make sure your home is complete and ready for move-in. Shortly before closing, you'll be given a chance to walk through your new home and check for any minor issues that may need to be fixed or paint that needs to be touched up.
8. Closing
The big day is here! Your mortgage lender should tell you what you need to bring to closing, and then all that's left is to sign your closing documents and move into your new custom home.