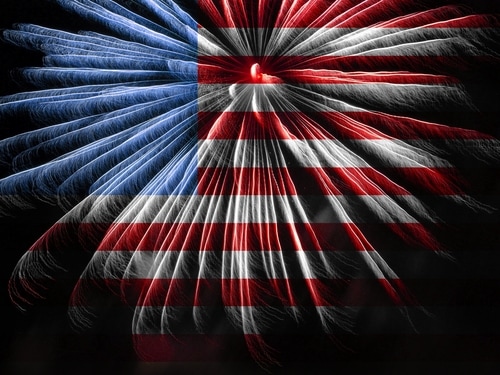 Happy 4th of July Weekend & A New Development
Tags:
---
Good Morning and Happy Friday! With the storms passing through last night, the extended holiday weekend should be calm, cool, and perfect for getting together with family and friends to celebrate our country's independence. We hope you and your crew have a very happy, and safe, Fourth of July celebration! If you are shooting fireworks or stoking up the fire pit, be sure to have a hose or bucket of water nearby in case of an incident. Even with all the rain we have had this week a small fire can spread quickly.
This past weekend we were glad to see many of you at the new Reserves @ Sandcrest development for their Open House. There were several hundred people out to see the model homes and enjoy free food. It was great to meet so many of you! We think this development will be a great addition to the northeast Wichita community, and with over 1/2 of the available lots reserved already it would appear you agree! Hard to beat the view and crystal clear waters. If you haven't yet checked it out, we would encourage you to stop by any day from 1-5. Sandcrest is located at the intersection of Hoover and 29th streets.
Home builds continue to progress for Sharp Homes. The rain has been a bit of a battle the last couple months, but we currently have 25 homes under construction. That is a bit down for us lately, but we have also been waiting on new streets to be put in at the Parkway Villas @ The Waterfront. Sewers and utilities are in already, and work has started on the roads. Once they are far enough along we will have 4 more custom homes to start. In total, we are preparing to start about 6-8 more home in the month of July so will continue to stay busy!
If you haven't been following us on Facebook (you should!) you may have missed our recent trip to Tulsa to view a few of their higher end Parade of Homes houses. It was a great day trip where we were able to see about 10 new homes. They were all gorgeous with a ton of exciting ideas and features that you may see incorporated in our upcoming models. These trips serve as a great way to stay in touch with new design trends, color schemes, and materials that are in our region but not necessarily in the Wichita area. They are also a great refresher of new ideas between the annual Builders Show which occurs in January.
Lastly, we are excited to begin work on a new development on the west side of Andover in Butler County. More details and information will come out with the official launch in August, so be on the lookout!
Thanks for staying in touch with us and for checking out our blog, a bit of a long one today! Again we want to wish you all a happy Fourth of July weekend from our entire team, and we hope you stay safe.